Comprehensive architectural design requires a multidimensional approach to building and simulating models that can withstand the rigors of the real world. Computer-aided design, or CAD, has been an essential tool for architects and designers to bring their concepts to life. Modern and contemporary architecture has only been possible thanks to new and developing software that allows users to create designs and models that seem almost impossible to produce in real life.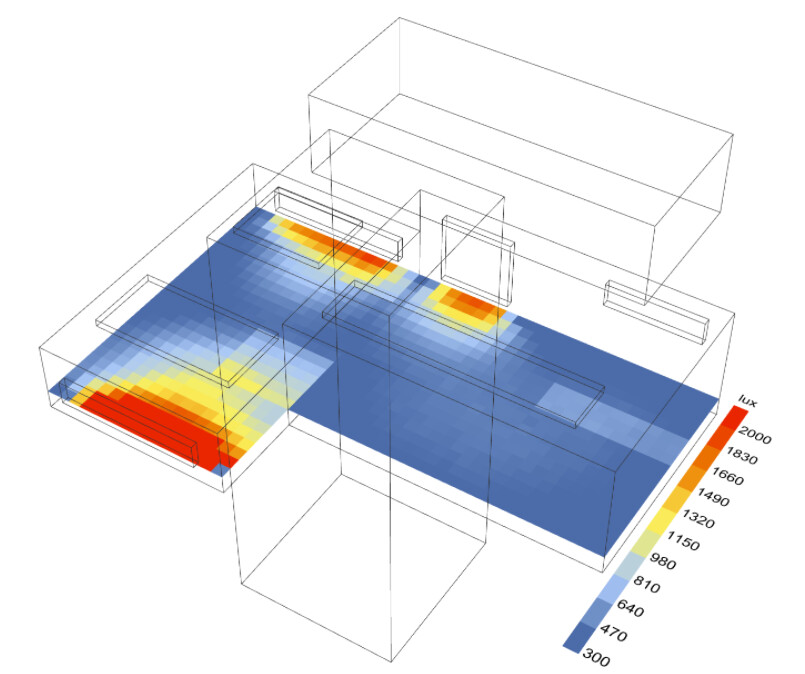 Computers have also helped streamline the design process to a great extent, allowing detail-oriented work to be presented seamlessly. Ladybug is one of those tools that has become an asset for improving environmental analysis.
Under the umbrella of CAD, parametric design software uses parameters or constraints to create object geometries with high precision and accuracy. As the field of architecture continues to grow, 3D modeling software like Revit, 3DsMax and Rhinoceros have become very useful tools for architects to create and present their work to clients.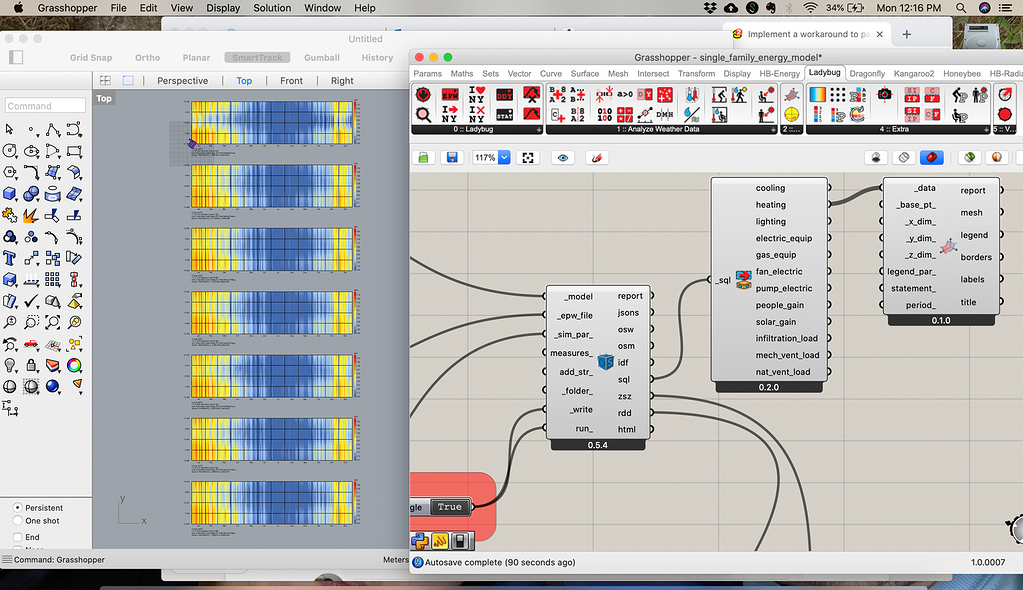 In addition to the mentioned modalities, a particularly dynamic modality must be taken into account during the design, these are the interactions that the building will have with the environment and vice versa. While the push for neo-futuristic and innovative design is ever-increasing, the need for climate-sensitive architecture has always been the same. For example, the movement of the sun and the resulting heat flux can significantly influence the placement of several design features on a building, and gaining insight into that feature about a specific geographic location can be of great value. great statistical utility for any architect.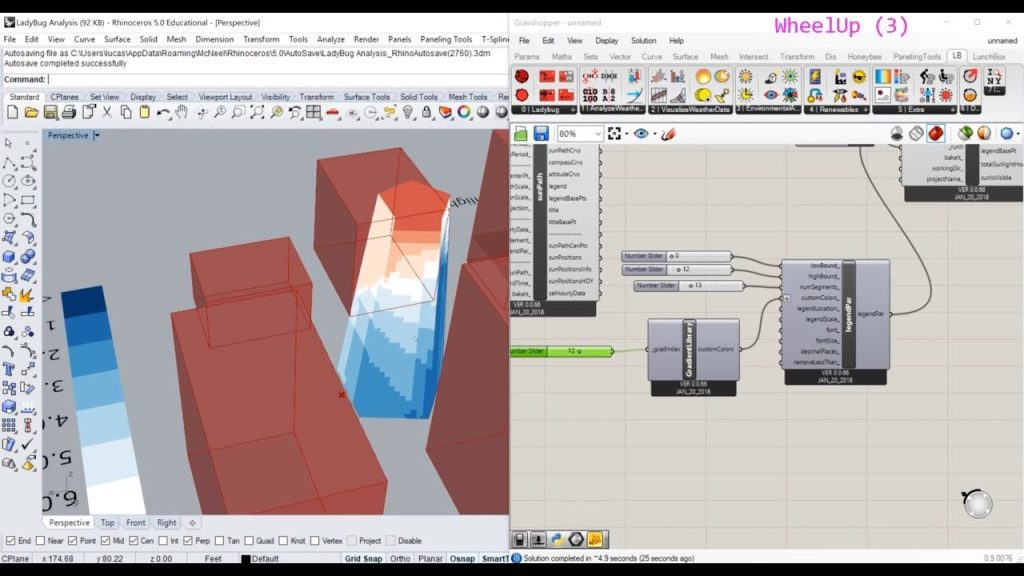 Creating "glass box" structures that rely entirely on artificial lighting and HVAC methods to function is a highly unsustainable model. Vernacular architecture has been around for centuries, using passive cooling and natural lighting techniques. While using these techniques might seem ideal, in a modern scenario, they don't work. Therefore, the creation of design software based on specific climates was developed.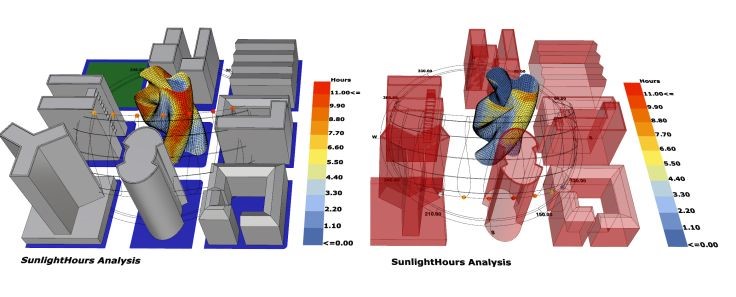 Software that can analyze, optimize, and customize the design in a chosen climate environment could show designers how different elements of it might work in a real climate environment.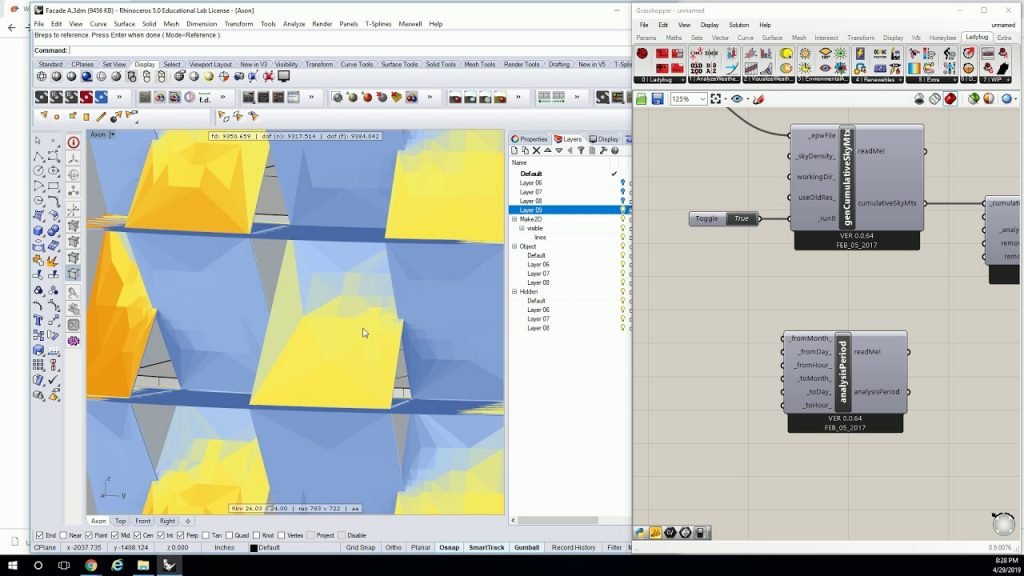 Thus, many environmental analysis tools have been developed to help and contribute to the design chain. The usefulness of these tools is maximized when they are available as plugins for popular CAD software. A good example would be the Ladybug plugin for the Rhino/Grasshopper design bundle. Ladybug's added benefits to the many dynamic design features offered in Rhino/Grasshopper revolve around its ability to simulate and present weather data on existing projects on the platform.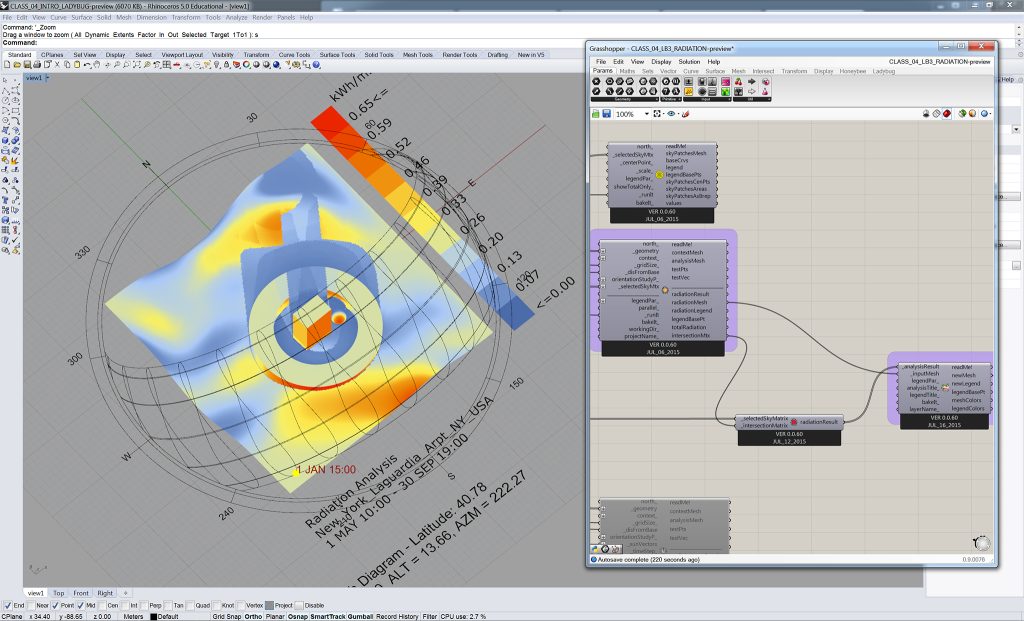 Ladybug imports EnergyPlus weather files (.EPW), which can represent design-relevant environmental data such as general climate and sun positions and use them to generate relevant data visualizations such as wind rose and trajectory of the sun. These tools are designed to make the drawing process extremely user-friendly while offering multiple custom 2D and 3D solutions aimed at providing interactive diagrams that aid and reinforce decision-making at any stage of design.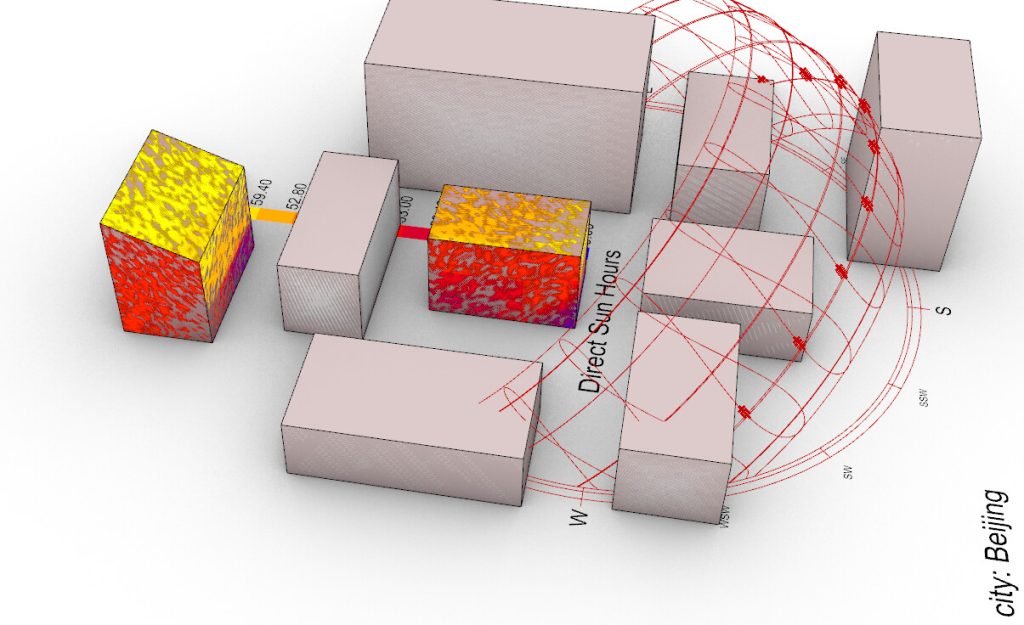 ladybug story
Mostapha Sadeghipour Roudsari and Chris Mackey created LadyBug. The first, who created the software out of frustration, said: "I couldn't stand the repetitions, the simplifications, and the disconnected workflows I had to use on a daily basis as well as the general lack of knowledge about environmental building design. I wanted to educate more people on the principles of environmental building design, which was done through Ladybug! »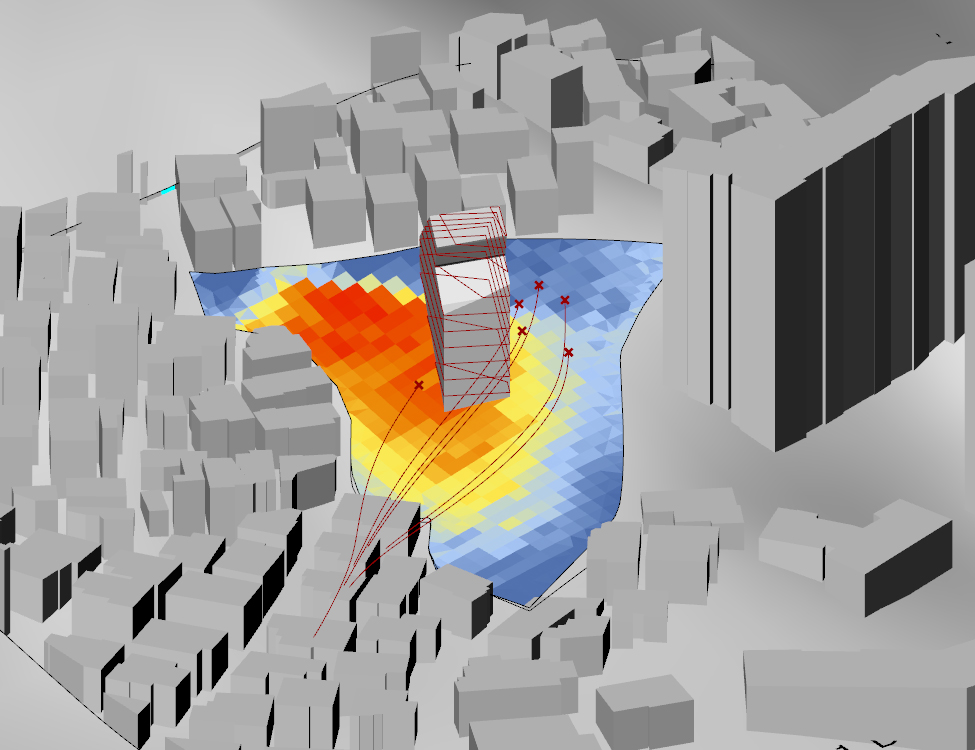 The first version of the software was created by Roudsari and released as a plugin for Grasshopper in 2017. It contained visualization of weather data, analysis of sunshine hours and solar radiation studies. Mackey joined later and added thermal comfort models. In 2016 Ladybug was rewritten in 'Ladybug Tools' was created for cross-platform Python libraries and plugins for Grasshopper and Dynamo.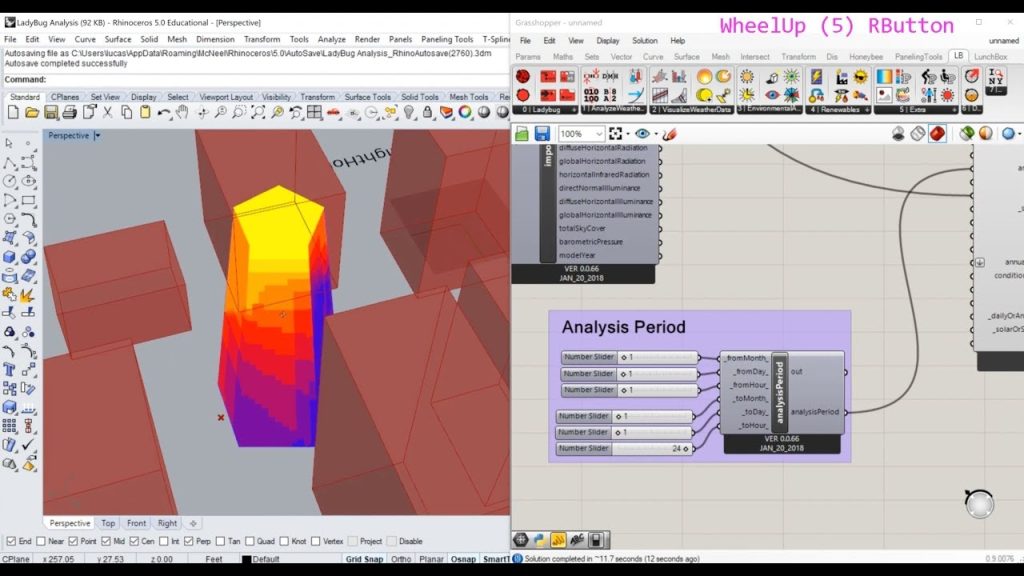 The plugin is seamlessly integrated on the Grasshopper and uses its tactile 3D modeling capabilities to speed up data analysis by automating calculations and visualizations, which can stack directly onto a drawn project without additional tinkering. Being built on the same platform, the need to export relevant data and adapt design specs in another program is virtually eliminated by the Ladybug plugin.
The plugin's wide range of mobility and adaptability is evident by its inclusion of many widely used energy and daylight engines like Radiance and Daysim. When combined with the parametric design tools that run on Grasshopper, these engines allow immediate feedback on design changes and adjustments, allowing for a more organic and involved design process that updates and modifies graphics required in real time.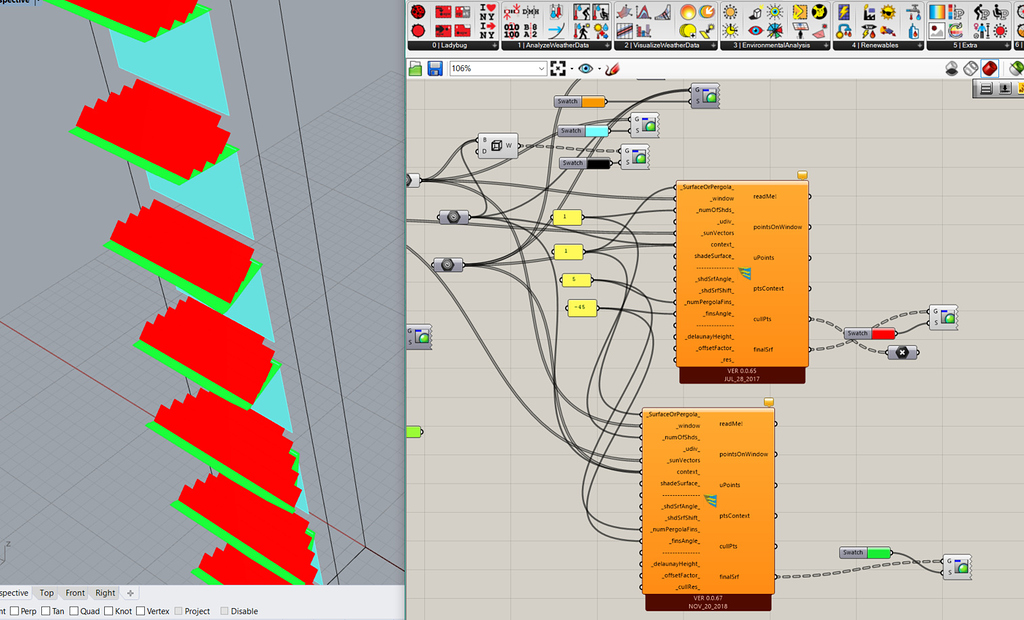 The ability to have flexible design modalities allows for a much more comprehensive presentation of projects for more customer-facing applications, enabling custom representations of all factors that may be of particular importance to a customer. Moreover, the plugin is used by many industry leaders and has an active user base online, which provides tutorials and tips to use the software to the best of its abilities.
Tools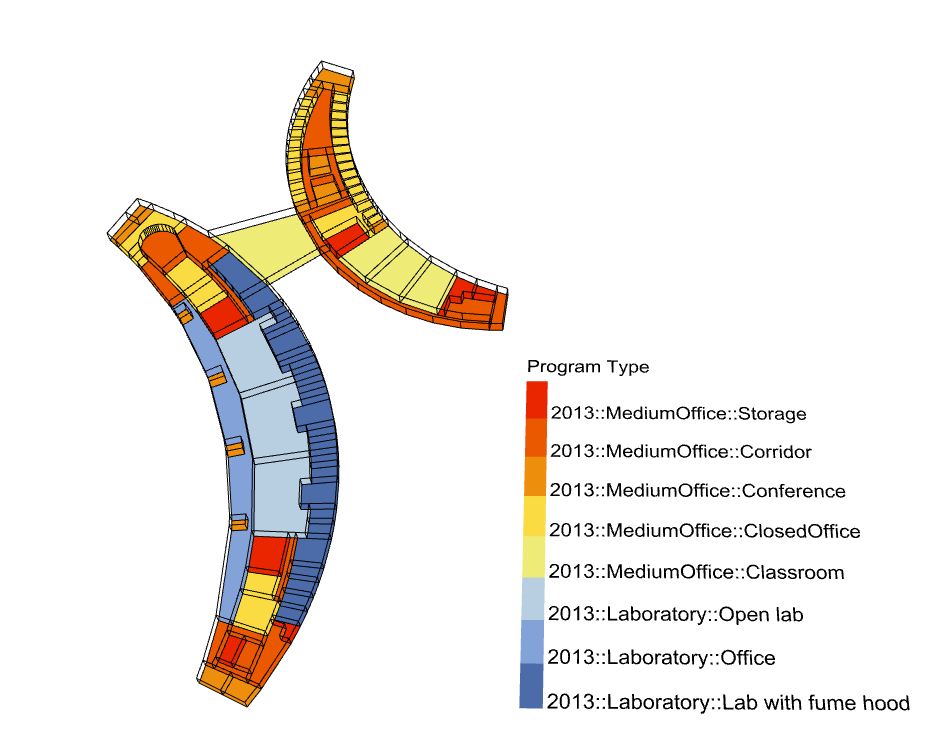 The software offers several simulation tools to help architects execute their design in a climate-specific context and verify energy efficiency and data. The tools and their purpose are as follows:
Climate Data Plots – Analyze design with data graphs.
Sunpath Graphics – Provides solar studies.
Shadow Studies – For understanding shadow and light.
Sun View – Analyzes the design from different angles and positions of the sun.
Solar Access Studies – equates which parts receive sunlight and which do not.
Solar fan and envelope – Analyzes the extent of sunlight on the volume.
Radiation Studies – Identifies the level of radiation on the design.
Show studies – Identifies the visual link to the context.
Psychometric tables – For thermal comfort.
Adaptive Comfort Chart – Evaluates thermal comfort levels.
Outdoor Thermal Comfort – Analyzes outdoor thermal comfort levels.
Indoor Thermal Comfort – Analyzes local indoor comfort levels.
Shade Benefit Analysis – Visualizes shaded regions that increase thermal comfort.
Generative Shade Design – Indicated location of shades required.
Ray Tracing – Visualizes the bouncing of light through geometry.
Shadow Masks – Analyzes which parts of the sky would be blocked by the context.
Renewable energies – Estimation of energy harvested from photovoltaics and solar hot water.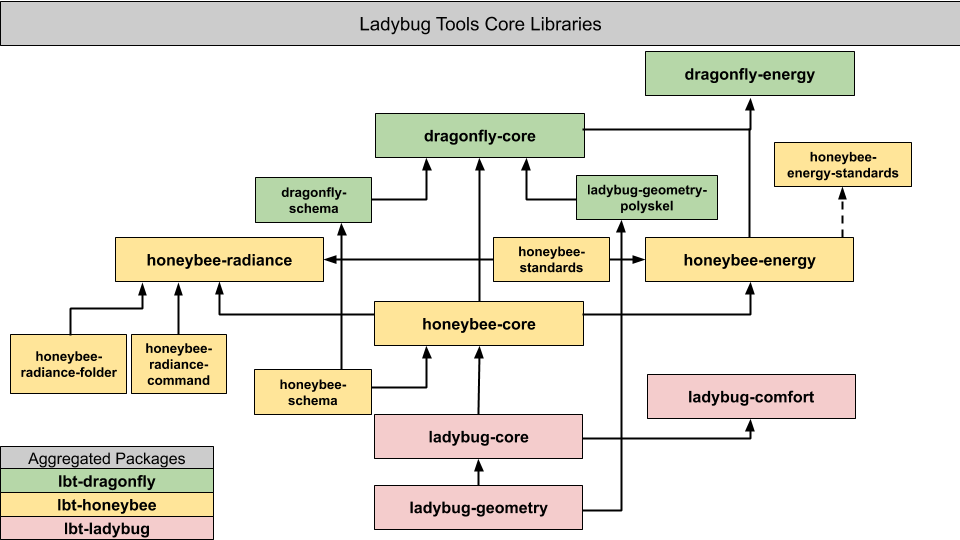 Being developed within the community on an open source platform allows for endless customization, fast bug identifications, and fix updates. The source code is readily available online and can be modified to fit a particular version or application at the user's discretion. As an environmental analysis tool, the Ladybug plugin can provide global functionality to subject any design to an infinite number of permutations and combinations of weather-related markers.
The creation of environmentally friendly structures is extremely important at the customer or user level. The designer is responsible for ensuring that their work is effective in all aspects of the design in order to provide the user with the best possible solution and experience.

LadyBug is a comprehensive climate analysis tool that acts as an integrated simulator, which can be used at any time during the design and development phase. Such a powerful tool allows designers to continuously assess, assimilate, and make design changes based on the results, which keeps the design process in continuous motion, creating a design that is much more relevant to our modern world. 'today.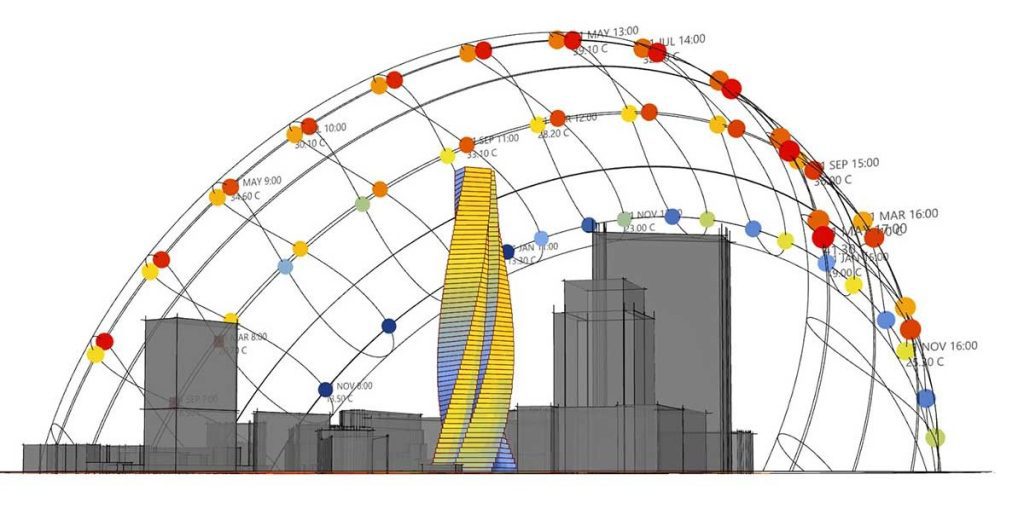 About the series
The series explores various software used around the world in the 21st century, and this modeling software has proven to revolutionize architecture by exploring the unexplored. They facilitate the process by finding new ways to build through a mix of computational methods to support futuristic designs. The series highlights software and tools such as Rhino 3D, Grasshopper 3D, Ladybug, Honeybee, Pufferfish, Kangaroo, etc.
Learn about 10 trending Grasshopper plugins in the AEC industry.
Incidentally, if you are curious to deepen the learning of parametric design and calculation tools, you can consult the workshops of PAACADEMY. These workshops are 7-session studio workshops dedicated to exploring computational design capabilities applied to architecture and design.